North East Labour MPs call for second EU vote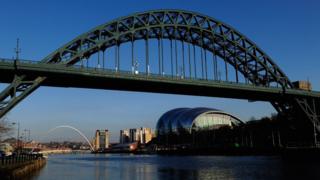 Five Labour MPs have broken ranks with their party to call for a new Brexit vote.
Writing in the Independent, the MPs say "growth and employment" in the North East could be affected by a bad deal.
They said the area voted to leave the European Union to remind "a cosy London establishment that our region has been receiving a raw deal".
But said it should have a final say on the deal to make sure it is "the right one for the North East".
Sedgefield's Phil Wilson, Redcar's Anna Turley, Stockton South's Paul Williams, Newcastle North's Catherine McKinnell and Bridget Phillipson from Houghton and Sunderland South made a joint statement to call for a "people's vote" on the terms of a deal to leave the EU.
'Lumbered with red tape'
The MPs said the region is an "export powerhouse" and 60% of its trade is with the EU.
"All of that could be at risk if we quit the EU customs union and the single market and are lumbered with new customs barriers, charges and unnecessary red tape," their statement said.
One of the group, Dr Williams, told BBC Tees that government analysis shows the North East is going to be the area "hardest hit" by Brexit.
He said: "Nobody voted to leave the EU in order to lose their job, and we ought to have a say on what the final deal actually is."
The MPs referred to companies which provide thousands of jobs in the region, such as Nissan in Sunderland, Hitachi in County Durham and the Teesside chemical processing industry, which "see their future as part of the EU customs union and single market".
Labour leader Jeremy Corbyn has said that the UK will leave both institutions.
Last month former leadership candidate Owen Smith was sacked as shadow Northern Ireland secretary for backing a second referendum.
On Tuesday night 83 Labour peers rebelled against orders to abstain from an amendment to the EU (Withdrawal) Bill in the House of Lords.
The peers - and 17 rebel Tories - backed retaining key aspects of the single market by 247 to 218, a majority of 29.
The North East as a whole voted to leave the EU, but Newcastle upon Tyne narrowly voted to remain.