Capsized kayaker saved by fishing crew at Skinningrove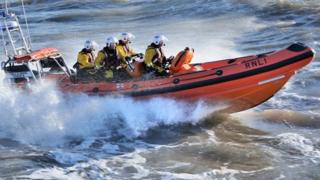 A man clung to his capsized kayak for more than 40 minutes until he was rescued off the Teesside coast.
Staithes RNLI said the kayaker was "extremely lucky" that a fishing boat crew spotted him in the water off Skinningrove, near Saltburn.
He had been unable to climb back into the vessel which capsized a mile (1.6km) from shore just before midday.
Sean Baxter, from the RNLI, praised the fishing boat crew and said: "He was extremely lucky to be rescued.
"The North Sea is unusually cold for the time of year because of the bad weather in the last few months and time is of the essence when someone has been in the sea that long."
The man, from Leeds, was treated for hypothermia.