Tributes paid to 'Tesco mummy' Hilary Simmons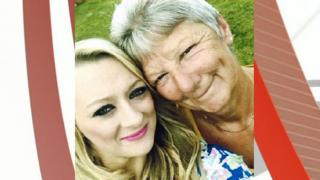 The family of a Tesco worker who died following an alleged attempted theft in the supermarket has said they will "cherish" their memories of her.
Hilary Simmons, 59, died on Monday after becoming ill at the shop on Middlesbrough's Corporation Road.
Police are investigating whether her death was linked to the earlier alleged shoplifting attempt.
Two men, aged 35 and 37, have been arrested on suspicion of manslaughter and attempted theft.
'Cherish the memories'
In a statement, Mrs Simmon's family said she was known to all her work colleagues as "Tesco mummy" with staff buying her a gift on Mother's Day to show their appreciation.
They added: "She will be dearly missed by all who knew her, especially by her husband, son, daughter (known as her little girl) and her Yorkshire Terrier, George, who she adored.
"We will cherish the memories we have had with mummy and would like to thank everyone who has expressed their sympathies and condolences so far."
A post-mortem examination has taken place but police have not yet revealed the results.
Officers initially arrested two other men, aged 33 and 38, on suspicion of manslaughter and theft, but both were released without charge.