Service for Cleveland Police officer murdered 125 years ago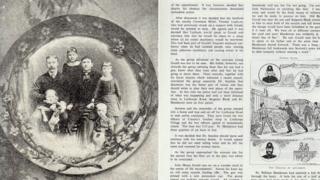 The only officer in the history of Cleveland Police force to be murdered in the line of duty has been honoured.
Father-of-eight PC William Henderson was shot trying to disarm a man in Middlesbrough on 14 April 1893.
The 37-year-old, who had worked for the force, died instantly and was buried in the town's Linthorpe Cemetery.
A service has been held at his grave and an information board about his life will be unveiled. The Cleveland force was established in 1839.
Mr Henderson had been trying to take a rifle off a mentally ill man he was trying to take to an asylum when he was shot.
'Keep legacy alive'
The service, to mark 125 years since his death, was attended by relatives of the officer as well as Cleveland volunteer cadet programme co-ordinator, Craig Green, and Cleveland's Police and Crime Commissioner Barry Coppinger.
A spokesman for Cleveland Police said: "Sadly PC Henderson's career came to an end when he was shot at close range by a 33-year-old man called John Gould - known as "Horse Harry" by locals.
"The injuries left a hole the size of a half pint glass in his chest.
"It is important that we continue to honour his death to show our respect and to keep his legacy alive for his family."
Mr Henderson, lived in Ruby Street with his wife Margaret and their children.
The information board is being funded by the National Association of Retired Police Officers and the Police Federation.