Willington memorial to World War One soldier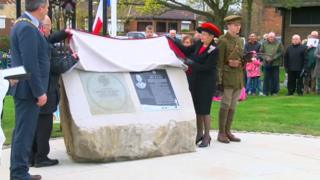 A World War One solider who had a town square in France and part of a mountain range in Canada named after him has been honoured in County Durham.
Lt George Burdon McKean was born in Willington and his family later emigrated to Canada, where he joined the Canadian Expeditionary Force.
He was awarded the Victoria Cross for carrying out a raid on enemy trenches in Northern France in April 1918.
To mark the anniversary, a memorial stone has been unveiled in Willington.
Lt McKean's bravery led to him being awarded the Victoria Cross for his "conspicuous bravery and devotion to duty", as well as the Military Cross, Military Medal and Victory Medal.
He also had a town square in Cagnicourt, France, named after him and part of the Victoria Cross mountain range in Canada dedicated to him.
After the war he settled back in England, but died in an accident aged only 38.
Among those attending the memorial ceremony in Willington was his great-grand-daughter, Sophie Harris-Evans.
She said: "He was an incredibly brave man who took the values of the army to the extreme."