Rapper The Game 'paid £16k for no-show' Middlesbrough gig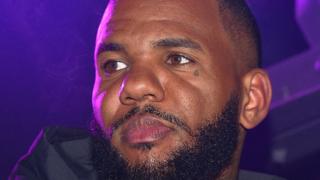 Rapper The Game was paid more than £16,000 for a gig before "vanishing", it has been claimed.
Organiser Junior Masandi, 28, said he has "nothing left" after the cancelled Teesside University Students Union show in Middlesbrough.
Mr Masandi said he paid the rapper a total of $25,000 at a Darlington hotel before the gig on Wednesday, but he failed to show up at the venue.
The Game and booker Sam Carter Agency have been contacted for a response.
The US rapper, real name Jayceon Terrell Taylor, is one of Dr Dre's most notable protégés,
His album The Documentary went double platinum in 2005, selling more than five million copies worldwide.
Mr Masandi said £12,000 of investors' money had been ploughed into the event and he was planning on taking legal action.
"We paid him and it was all counted and paid for," Mr Masandi said.
"We set off to the gig, which was about 30 minutes from the hotel, and they said they would follow us on the coach. But they never arrived."
'Head on a spike'
Mr Masandi said he "felt numb" when he had to go on stage in front of 600 people to tell them the main act would not be performing.
"I couldn't feel a thing. People will be angry and frustrated and want my head on a spike.
"All I can do is say sorry and work out how to deal with this."
Support act Denzel Munzara, 24, who performs under the name Yunghydro Music, said the gig was going to plan until just before The Game was due to perform.
"When it was time for him to come on he just vanished," he said.
"Nobody saw him backstage but everyone thought he was in this room because there was security around the door."
He said despite the cancellation the audience was "calm" and "ushered themselves out".