Durham University academics told to leave UK 'for doing jobs'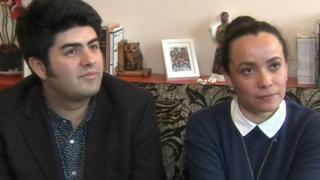 Two university academics have been ordered to leave the UK for doing work "written in their job descriptions".
Dr Ernesto Schwartz-Marin, Dr Arely Cruz-Santiago and their 11-year-old daughter Camila have been told to leave within 14 days.
The couple, who have lived in the UK for 11 years, did humanitarian work in Mexico for Durham University.
But the Home Office said they breached rules by spending too much time abroad during their visa period.
"We are in the cutting edge of academia," Dr Schwartz-Marin said.
"It's why people like Arely and I come to this country, because it's the best place to do this sort of research.
"And suddenly it seems like you are punished because you have success doing the thing you were supposed to do."
Dr Schwartz-Marin's application for indefinite leave to remain was refused because he was absent from the UK for more than 180 days within a 12-month period, the Home Office said.
There are exceptions for humanitarian projects, but a Home Office letter states their work in Mexico does not qualify.
The couple were helping families in Mexico develop a DNA database to find their loved ones who had disappeared - most likely victims of the country's gang and drugs wars.
They are also working on a new project with colleagues in Leeds to tackle kidnapping in Mexico, Colombia and the USA.
"We've been here since 2007; our daughter arrived here when she was eight months old," Dr Cruz-Santiago said.
"It's a shock for all of us."
Professor Tim Clark, pro-vice-chancellor (social Sciences and health) at Durham University, said: "We are committed to supporting our staff wherever possible and we are providing such support in this instance."