Missing Katrice Lee's father: Military police 'must regain my trust'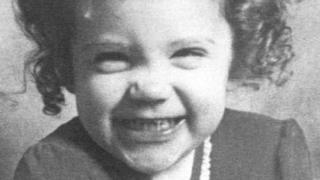 The father of toddler who disappeared near a military base almost 37 years ago says police must regain his trust after mistakes in the search for her.
Katrice Lee, from Hartlepool, went missing from a Naafi supermarket near Paderborn, Germany in 1981.
International appeals have failed to find her, but her father Richard Lee has never given up hope.
Later, Mr Lee will meet a Royal Military Police (RMP) team that is reinvestigating the case.
Katrice went missing on 28 November 1981 - her second birthday - while out shopping with her mother Sharon, from Gosport, Hampshire.
The reinvestigation, called Operation Bute, is being carried out by the Surrey-based RMP team.
Mr Lee will be updated on its progress since Defence Secretary Gavin Williamson said he would sanction a review of the case last year.
'Get better rapport'
In 2012, Royal Military Police chiefs admitted mistakes were made during the initial investigation.
Mr Lee said said border guards were not informed when Katrice disappeared, statements from shop workers were not taken until six weeks later and information about an eye condition Katrice had was not made known.
He said: "What I'm hoping is to get a better rapport and understanding with the Royal Military Police and get clarity and understanding with what went wrong with the initial investigation.
"Hopefully, we can resolve issues and find out where my daughter is. The initial investigation was a complete mess and subsequent investigations were either closing ranks or covering mistakes.
"Trust is not a given and what the police need to do now is regain my trust."
The Ministry of Defence (MoD) said it would be inappropriate to comment while the case was being reinvestigated.