County Durham NHS accountant jailed for car fraud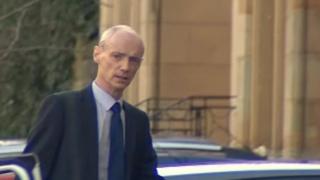 A health trust accountant has been jailed for defrauding the NHS out of more than £84,000.
John Thurlbeck, 59, from Swan Walk, Spennymoor, was sentenced to two years in prison and must serve 12 months.
Durham Crown Court heard he had fraudulently assigned himself fuel and cars over a period of ten years.
County Durham and Darlington NHS Trust said Thurlbeck had "detailed knowledge of the systems in place, which he abused and manipulated".
"We have introduced additional segregation of duties and checks have also been introduced for any lease car agreement," a spokesperson said.
The trust enlisted counter fraud organisation AuditOne to uncover the extent of Thurlbeck's activities.
'Living a lie'
Thurlbeck had abused an NHS staff car leasing scheme which he was responsible for as finance officer, the court heard.
Over the years he and his wife used 16 cars but did not deduct from his salary the £65,000 they would have cost to lease.
He also used cards assigned to the cars to purchase just over £19,000 in fuel, the court was told.
The defence said he had previously been of good character and his wife knew nothing of the fraud.
He was dismissed for gross misconduct in May 2017 and, when interviewed by police, admitted the offences.
Judge James Spencer told him he had been "living a lie" for the past 10 years.
"You enriched your own life by defrauding the car scheme for two family cars, all the while you were going about your apparently respectable life," he told Thurlbeck.