County Durham salmonella link butchers to close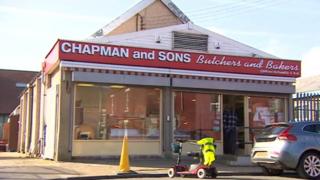 A butchers shop linked to a salmonella outbreak has decided to close permanently, it has confirmed.
There have been 19 confirmed cases of salmonella and three suspected cases, the government body Public Health England (PHE) said.
Several of those affected are known to have eaten pre-cooked meats from Chapman and Sons butchers in Blackhall Colliery, County Durham.
The family-run company declined to comment further.
In a statement, PHE said it was still investigating the outbreak with Durham County Council environmental health and public health teams.
It confirmed a definite source had not yet been identified.
Chair of the outbreak control team Dr Deb Wilson said: "The decision to close the premises is one that has been taken solely by Chapman and Sons and was not advised or required by the outbreak control team."