No SSI task force cash for axed Boulby potash workers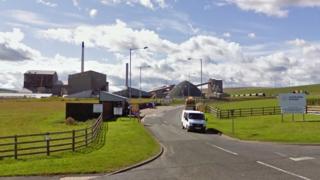 Money from a task force set up after the Redcar steel plant closure will not be used for potash mine workers.
About 230 jobs are set to be lost when Cleveland Potash Ltd switches production to polyhalite at its Boulby mine later this year.
There were hopes that the remaining SSI task force funding could be repurposed to help Boulby mine workers, but the government has rejected this.
Local MPs branded the decision as "disappointing".
Simon Clarke, Conservative MP for Middlesbrough South and East Cleveland, and the task force's chair, Amanda Skelton, had pleaded the case for money not yet used by former steelworkers to be made available following the Boulby mine announcement..
But Business minister Andrew Griffiths has rejected this, saying it was "not justified in this instance".
The SSI task force was set up after 2,200 people lost their jobs at the Redcar plant in 2105.
Mr Clarke described it as "disappointing", but said the decision had been taken "for good reasons".
He said: "The government's rationale is if they do this for every redundancy situation it is setting a precedent that they then can't afford to sustain."
"What we have managed to secure is there will be the same flexibilities around retraining that were extended to the men at SSI.
"So unlike in most redundancy situations, the 16 hour rule - which means if you do more than that amount of training a week your entitlement reduces - won't apply here."
Anna Turley, the Labour and Co-operative MP for Redcar, described the funding refusal as a "bad decision", and a blow after the "major economic shock" of the steelwork's closure.
She said: "This will significantly limit the opportunities available and I am deeply disappointed ministers have once again ignored the impact of these redundancies."