Matthew Buckworth jailed over Sonny Stephenson spade death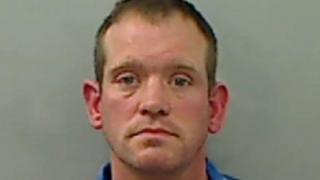 A man who killed a teenage motorcyclist by throwing a spade at his head has been jailed for six years.
Sonny Stephenson, 17, suffered fatal head injuries when he and his pillion passenger were attacked in Guisborough in August 2017.
In the days before the attack, Matthew Buckworth, 34, had complained of the noise of the bikes and said he wanted to hit Mr Stephenson with a spade.
He was jailed at Teesside Crown Court after admitting manslaughter.
Buckworth, of Charlton's Garth, Guisborough, also admitted attempting to assault the passenger on the bike.
The court heard that weeks before the killing Buckworth had written a WhatsApp message that he had seen Sonny "flying around on a knackered old bike for the last two weeks till silly o'clock in the morning."
The message read: "Half of Guisborough is after him now. Was gunna give him the spade out the garage but (someone) stopped me."
Peter Makepeace QC, defending, said Buckworth accepted he was solely to blame for the death, and that "someone causing nuisance should not have their life taken away".
He said: "This young lad will not have had the slightest idea that what to him was no doubt great fun and adventure was having this effect on other people."
Passing sentence, Judge Simon Bourne-Arton QC said there there was "some degree of provocation" due to local anti-social behaviour in previous weeks, but that was "no justification".
Outside court Sonny's mother, Elizabeth, said her son had been "foolish" but would now have no chance to "make something of his life".
She said: "No prison sentence was ever going to bring my child back, however I am disgusted by the sentence received."
Det Ch Insp Mark Pearson said: "This was a tragic incident involving the death of a 17-year-old boy; a son, brother and a friend to many.
"Today's sentence cannot bring Sonny back.
"My thoughts and sympathies remain with his family and friends as they continue to come to terms with their loss."