Cleveland Police names Mike Veale as new chief constable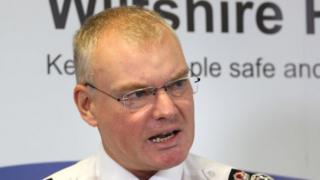 Wiltshire Police Chief Constable Mike Veale is to become the new top officer for the Cleveland force.
Mr Veale was the preferred candidate of Cleveland's police and crime commissioner Barry Coppinger.
He recently faced criticism over the handling of accusations of historical child sex abuse against former Prime Minister Sir Edward Heath.
Mr Veale said it was the "right time" to take on a fresh challenge. His start date is yet to be decided.
The appointment was confirmed after a meeting of Cleveland's police and crime panel on Tuesday.
'Difficult decision'
Mr Coppinger said: "Mike has a vast range of police experience, including as a detective and senior investigator, chief officer and, for the past two years, Chief Constable of Wiltshire.
"He has commented on the similarity in the challenges that Wiltshire and Cleveland have overcome and in the challenges they will face in the future.
"I believe Mike is the perfect person to carry on this work and address the priorities of the public as outlined in the current police and crime plan."
Mr Veale said: "It has been a very difficult decision to make, after serving here in Wiltshire for 13 years and the wider West Country for almost 34 years.
"However, I feel it is the right time for a new challenge."
Cleveland's former chief constable Iain Spittal announced his retirement in October after spending two years in the post.