Unfairly dismissed council boss awarded £94,000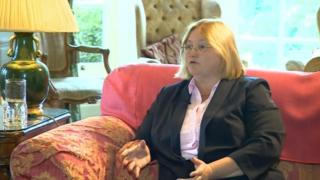 A former council boss who was unfairly dismissed from her role with a North East authority has been awarded £94,000 in compensation.
Karen Whitmore was made redundant from her role as assistant director of organisation and governance with Middlesbrough Council in June 2016.
She claimed she was targeted after raising concerns about the organisation selling properties below market value.
The council said it accepted the tribunal's findings.
Mrs Whitmore claimed she was made redundant because she refused to "turn a blind eye" to council failings.
She also said she had found it difficult to get a new job after being marched off the council's premises with rumours circulating about her behaviour.
Speaking afterwards, Mrs Whitmore said: "My life as I know it has been completely overturned.
"No award can ever compensate me for that, while I am of course very pleased with the outcome."
'Lurid allegations'
In June this year, an employment tribunal ruled she was unfairly dismissed with the judge saying chief executive Tony Parkinson "withheld information" from councillors who were making a redundancy decision on Mrs Whitmore.
However, he also concluded her claims about the sale of assets and there being a "laddish culture" were a separate issue.
Mrs Whitmore was awarded £77,265 for unfair dismissal, £15,000 for injury to feelings and £2,000 interest.
She had been seeking £723,000.
In a statement, Mr Parkinson said the council had been "characterised from the outset by lurid allegations designed to grab headlines and paint this authority and its officers in the worst possible light".
He added: "A picture was created of this organisation which I simply do not recognise.
"We accept the tribunal's findings and will now draw a line under the matter."