David Dearlove jailed for 1968 Paul Booth murder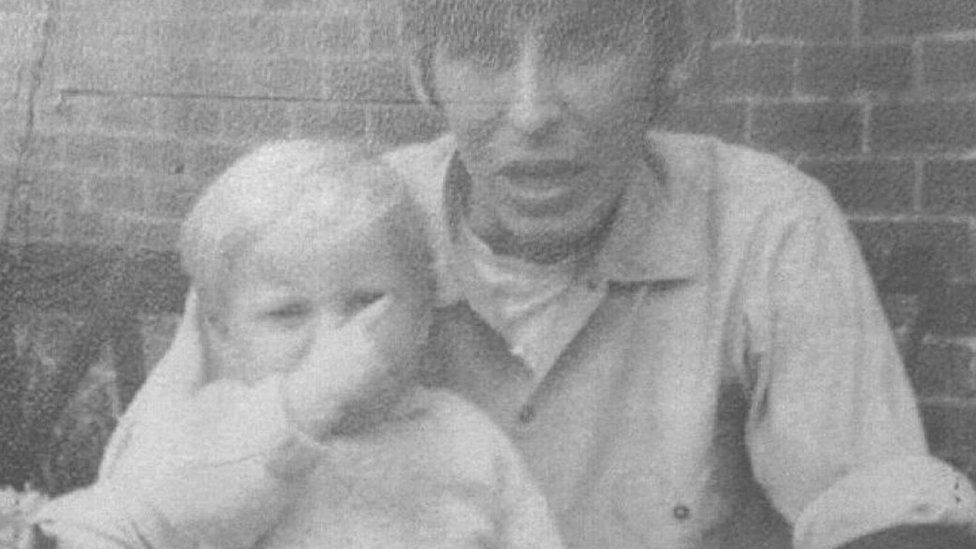 A man who swung his toddler stepson by the ankles and smashed his head into a fireplace has been been jailed for a minimum of 13 years.
David Dearlove, 71, murdered 19-month-old Paul Booth at their home in Stockton-on-Tees in October 1968.
Paul's brother Peter, who was three years old when he witnessed the attack after he crept downstairs for a drink, went to police in 2015.
A jury at Teesside Crown Court convicted Dearlove of murdering Paul.
The inquest into Paul's death in 1968 recorded an open verdict.
But in 2015, Peter went to the police after seeing a photo on Facebook of his little brother sitting on Dearlove's knee.
He said as a three-year-old he had seen Dearlove, now of Great Yarmouth, Norfolk, swinging Paul round their living room and witnessed the boy's head striking the fireplace.
During the trial, Dearlove insisted Paul suffered the fatal head injury when he fell out of bed onto a concrete floor, although he told police when he was arrested in 2015 that the toddler collapsed in the living room.
He claimed he changed his story because he had forgotten the events of 1968.
Home Office pathologist Mark Egan demonstrated how the toddler could have died by swinging a doll by the ankles and banging its head on the surface of the witness box, causing some of the 10 men and two women of the jury to weep.
He also said he believed it would have taken separate blows to cause the "z-shaped" skull fracture on the side of Paul's head.
Dearlove was also convicted of three child cruelty charges.
Sentencing, Mr Justice Males told him: "You were a young and no doubt immature man.
"You were also a cruel man and you made the lives of those three young children a misery."
The Crown Prosecution Service said it had not been able to exhume Paul's body as burial records had been lost, with the case relying on the documents prepared for his inquest at the time.
In a statement after the verdict, the Booth family said Dearlove's actions "not only physically killed Paul but also destroyed his memory".
"He was buried into an unmarked grave the location of which remains unknown and he was not spoken about for many years."
Det Insp Mark Dimelow, from Cleveland Police, said the murder investigation had been "challenging due to its historic nature".
"I want to pay tribute to Paul's family and other witnesses who provided such an emotive testimony and I praise their bravery in having to relive events from 50 years ago," he added.
Related Internet Links
The BBC is not responsible for the content of external sites.