Dog 'was deliberately let loose on ducks' in Hartlepool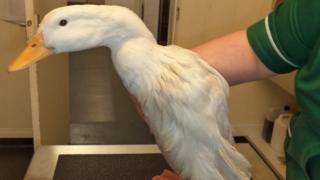 Six ducks have been killed by a dog which had been deliberately let loose on them by its owner, the RSPCA said.
Witnesses reported seeing the man, who had a young girl with him, get the dog to attack the birds in Burn Valley, Hartlepool, on 11 November.
Four were killed at the scene and two died later at the vets. A seventh survived and has been named Audrey.
The birds are believed to have come from a nearby allotment, and the RSPCA is trying to find their owner.
RSPCA inspector Krissy Raine said: "This was a heartbreaking job. These ducks suffered terrible injuries.
"The incident was witnessed by numerous children and shockingly, we've been told that the man had a child with him at the time.
"People are very upset and we're appealing for anyone who knows who he is to get in touch."
The man is said to be in his early 30s and slim. He was wearing jeans, a black jacket, black Nike trainers and a black cap with a grey peak. The dog is said to be a sandy-coloured Staffordshire bull terrier.
The girl with him was thought to be aged about three and had curly brown hair.