Wilton power plant owner fined £1.3m for leg injury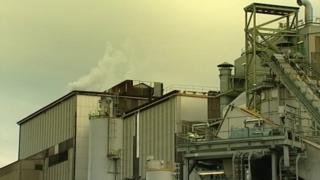 An energy company has been fined £1.3m after a worker lost part of his leg as a result of an industrial accident.
Sembcorp Utilities UK, which operates the Wilton 10 power plant on Teesside, admitted health and safety breaches.
Dennis Chadwick was testing a boiler in December 2013 when a disc which should have released pressure was set to the wrong level and ruptured.
Judge Simon Hickey said the fines had to be "significantly substantial to have a real economic impact".
This would "bring home to both management and shareholders the need to comply with health and safety legislation", he said.
Systemic failures
Central Industrial Services (Northern), which was hired to carry out the tests, was also fined £120,000.
R&A Kay Inspection Services, who employed Mr Chadwick, was ordered to pay £37,000.
Both had admitted health and safety breaches.
Teesside Crown Court heard there had been systemic failures which had led to a high likelihood of harm.
All seven men involved in the work had been exposed to the risk of serious injury or death, it was told.
When the disc burst a piece of metal went into Mr Chadwick's leg.
He had to have three years of treatment and a dozen operations before his leg was eventually amputated below the knee earlier this year.