Boulby potash mine to face no further action after blaze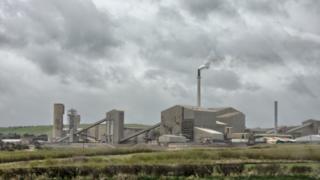 Owners of an East Cleveland potash mine are to face no further action following an investigation into an underground fire that injured seven workers.
More than 100 staff were underground when the blaze broke out at the Boulby Potash Mine near Loftus, in April 2016.
The Health and Safety Executive (HSE) issued two improvement notices after the blaze, which was caused by polystyrene blocks catching fire.
It said there was "insufficient evidence" for any further action.
Seven workers were treated in hospital for smoke inhalation as a result of the fire, which started in the early hours of 13 April 1,100m (3,600 ft) under the sea bed and five miles (8km) from land.
'Further interventions'
A HSE spokesperson said: "Following the incident in April 2016, the HSE conducted a full and thorough investigation into the circumstances surrounding the fire.
"Having carried out our inquiries two improvement notices were served and further interventions were instigated.
"The investigation has now concluded and whilst our thoughts remain with those who were injured and otherwise affected by the incident, and we recognise the level of interest that it generated, there was insufficient evidence to pursue the matter further."
Owners ICL, which employs about 1,100 people at the mine, which is one of Europe's deepest, declined to comment on the HSE findings.
The mine produces fertiliser polysulphate.