Darlington Cricket Club can keep 'noisy' practice area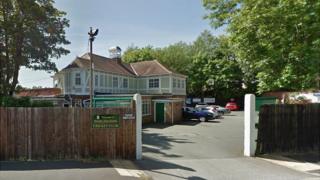 A cricket club can keep a practice area close to newly-built homes, despite residents complaining of noise and men "dropping their trousers".
Darlington Cricket Club installed practice nets and cages on the border of its Feethams ground and sought retrospective planning approval.
But some residents of 12 new homes, built just feet away, objected.
Darlington councillors have now said the nets can stay as long as their use is limited to certain times of the day.
The council's planning committee heard complaints from residents which included "the noise of the bat striking the ball" and "the effort of batting and bowling" and the lack of privacy caused by the nets.
One letter complained about men "dropping their trousers to remove thigh pads and boxes in their underwear".
'Adverse effect'
But following a meeting, councillors agreed training sessions could continue as long as the club reduced their hours and were "properly supervised".
One resident, who did not want to be named, said the decision would still result in noise and have an adverse effect on the enjoyment of their home.
But a spokesman for the club said any other decision would have meant the playing surface was used for training, resulting in the ground being unable to host county matches.
The club has been at the same ground since 1866 and plays in the North Yorkshire and South Durham Premier League.
It said nets previously on the southern boundary of the ground had deteriorated and were no longer viable.