Pregnant women 'warned against' Hartlepool hospital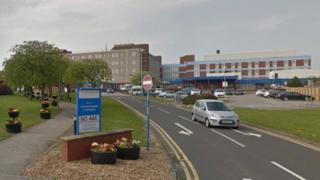 Midwives are being accused of actively discouraging pregnant women from giving birth in their hospital.
Instead of having their babies in midwife-led Hartlepool they are being steered towards Stockton's consultant-led unit, according to a councillor.
Ray Martin-Wells said midwives were warning women that any complications would mean an emergency transfer from Hartlepool to Stockton.
Hartlepool Borough Council is looking into the area's maternity services.
It is acting after reports that the birth rate at the town's hospital fell to nine last year, from more than 1,600 10 years ago.
Mr Martin-Wells, the council's audit and governance chair, said: "We're getting the stories back from new mothers where they're going to the prenatal classes, they're speaking to midwives, and they're being told, 'look, if there's a problem during your birth and it's midwife-led in Hartlepool, we're going to have to blue-light you through to North Tees'."
'A disgrace'
"Who in their right mind would put an unborn child at risk?" Mr Martin-Wells said. "Most people are going to say, 'look, we'll go to North Tees in the first place'."
North Tees and Hartlepool NHS Trust said it welcomed a proposed council review of its functions.
Julie Gillon, the trust's chief operating officer and deputy chief executive, said it intended to be "active participants" in the investigation.
"We think it is of utmost importance that this review is clinically-led as part of a wider strategic review of services in the region," she said.
There have been protests in the town at the trust's centralisation of services at University Hospital of North Tees in Stockton.
University Hospital of Hartlepool lost its consultant-led maternity care in 2008, its accident and emergency in 2011 and its intensive care unit in 2013.
Residents say the hospital has been "run down" and that it is a "disgrace" that it no longer has some facilities.
The Hartlepool Mail reported in June that, since maternity became midwife-led, births dropped from 452 in 2009 to nine in 2016.