County Durham surgeon 'disgusted' at sex assault claim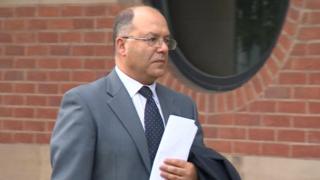 A retired orthopaedic surgeon accused of sexual assault has told a court he feels "absolutely disgusted he's being compared to a low life paedophile."
Magdy Eskander, 59, denies three charges of sexual assault, alleged to have happened while examining a girl at Darlington Memorial Hospital in 2011.
He told Teesside Crown Court he had treated more than 600 children a year in the hospital.
He said he always insisted on a chaperone being present.
The court was previously told that the girl, who was then aged 14, said she "felt violated" after he touched her breasts and put his hands in her underwear.
She was embarrassed by what had happened but at the time thought it was a necessary part of the examination, she said.
When Mr Eskander was asked about the suggestion he abused a child, he replied that he felt "absolutely disgusted" his name was being linked to "this heinous, horrendous crime".