Graffiti-hit Thornaby Mosque attracts hundreds showing support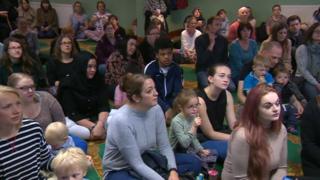 Hundreds of people have attended an open day for a mosque defaced with Islamaphobic graffiti in the wake of the London terror attacks.
The words "Muslims cowards" were sprayed on Thornaby Mosque on Teesside on Monday, two days after the London Bridge attack.
Worshipper Noweed Ahmad said he was "amazed" by the turnout on Saturday.
The open day was intended to help people find out about Muslims and "get rid of misconceptions", he said.
'Tight community'
"We've been pleasantly surprised by how much interest there has been in Thornaby community, the wider community, about us as Muslims and what we stand for," he said.
"There's a lot of good people here in Thornaby."
Resident Tracy Fascia said she did not want her "children growing up thinking that they can't pass a Muslim on the street".
"I've always thought of us as a tight community and for somebody to actually think that that was acceptable and for children to walk past to go to school and see that type of thing is just wrong," she said.
One of the open day's organisers, Zak Mahmoud, said it offered residents a "safe space to ask any questions they have, however controversial they think they are, however British they want to be and keep it to themselves and not offend anyone".
Cleveland Police said it was treating the graffiti as a hate crime.