Manchester attack: Girl, 10, sends letter to Ariana Grande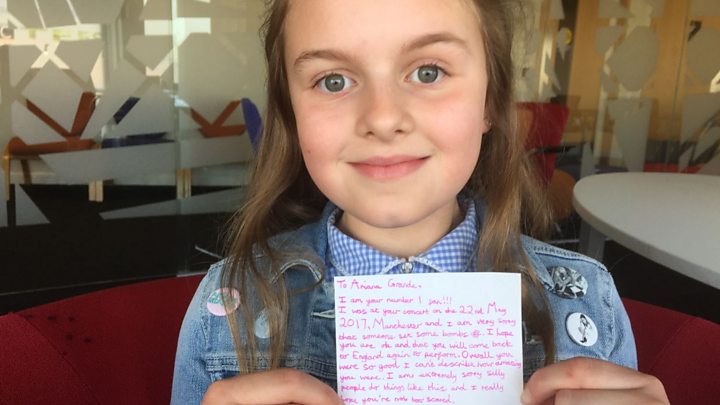 A 10-year-old girl caught up in the Manchester bomb attack has written to Ariana Grande asking her not to be "too scared" to come back to the UK.
Poppy Sutcliffe, from Teesside, describes herself as the US singer's number one fan.
She was at the concert on Monday night when Salman Abedi detonated a bomb which killed 22 people and injured 64.
In the letter Poppy said she was "extremely sorry silly people do things like this".
"I hope you are OK and that you will come back to England again to perform," she wrote.
Tickets to the concert had been a Christmas present for Poppy and she went with her mother, Sarah Sutcliffe. Both were unharmed.
Poppy wrote the letter because she "felt sorry" for the star because "her fans came and saw her and then someone sets bombs off", she said.
Mrs Sutcliffe said her daughter had been very brave during the attack.
"She was telling me to stay calm and I think that's about her spirit and her strength," she said.
"We're lucky: we got out. Others weren't so lucky."
In the aftermath of the attack the star tweeted: "Broken. from the bottom of my heart, i am so so sorry. i don't have words."
The singer's Dangerous Woman tour has been suspended until 7 June and she has returned to her hometown of Boca Raton in Florida.