Cuts force closure of Middlesbrough's Southland Business Centre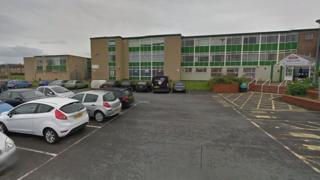 Almost 50 traders face eviction from a small business hub due to budget cuts.
Council bosses have said the £200,000 a year to staff and maintain Middlesbrough's Southlands Business Centre is now unaffordable.
The 48 tenants have been told they have until September to find new premises.
A spokesman for the authority said it would provide £100,000 to help with relocation and to assist with some transitional costs.
Dave Brown, who has run a window design business from the former school site for more than eight years, said there were few other places for him to go.
He said: "Where can I go now in Middlesbrough with low rents, easy access and support? There's nowhere.
"The town needs an enterprise centre like this for small businesses."
Mike Watson, who operates an electrical testing business at Southlands, urged Middlesbrough Council "not to ignore the little companies."
He added: "We have looked at other business centres, but they are a lot more expensive.
"Plus, we will have to pay VAT wherever we move to. We don't here. That will mean an extra 20% on the already rising costs we face in moving somewhere else."
Nicky Walker, executive member for finance and governance at the Labour-controlled council, said: "There is a package of money, £100,000, which could help with transition and things like moving costs.
"We have even talked about paying of some debts of those involved.
"We have no intention of simply closing the door on these people."
The council said it was now considering alternative uses for the complex.