School asks parents not to use mobiles at gates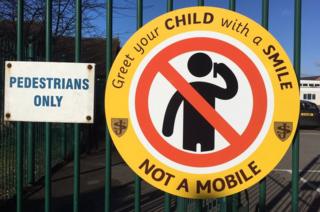 A primary school has put up signs asking parents not to use their mobile phones when they pick up their children.
The circular notices at St Joseph's RC Primary School in Longlands, Middlesbrough, feature a figure on a phone with a red line through it.
Reading "Greet your child with a smile not a mobile", they have been placed at three entrances.
The school said it was part of a plan to get families talking.
Jade Collett, whose four-year-old son attends the nursery at St Joseph's, welcomed the idea.
'Good thing'
She said: "The kids have been at school all day so the last thing they want is for their mum or dad to be glued to their phone."
Precious Dhladhla, whose four-year-old daughter Isabella also attends the nursery, agreed.
She said: "I think it's a good thing because sometimes people pay more attention to their phone than their kids.
"I think the other parents are following the rules because you don't see many people on their phones now."
Head teacher Elizabeth King said the signs were not in response to a particular problem among parents and were instead a "simple way" to develop speaking and listening between youngsters and their parents.