Swallowed dummies and glow stick put dog at 'death's door'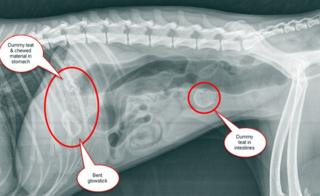 A young dog was left at "death's door" after swallowing three children's dummies and a glow stick.
Rosie - an 11-month old Cavalier King Charles Spaniel and Poodle cross, also known as a Cavapoo - became sick and lethargic after ingesting the objects.
An X-ray was carried out at Middlesbrough's PDSA Pet Hospital and revealed a potentially fatal blockage in the intestine.
Following an emergency operation the much-loved pet has now fully recovered.
Glow stick mystery
Vet Nigel Crane said: "Dogs often use their mouth to investigate objects, and sometimes swallow things by mistake.
"Although objects sometimes pass through without harm, some get stuck in the dog's stomach or intestines, which is extremely dangerous and can be life-threatening."
Owner Megan Marron, 22, said: "Rosie was at death's door when we left her with PDSA, and we were devastated to think we might lose her.
"The dummies must have been my daughter's but they're not usually left lying around.
"I have absolutely no idea where she got hold of a glow stick though."