Stockton special needs provision boost planned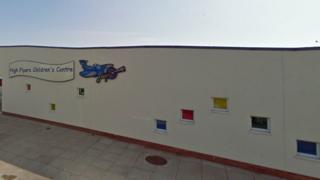 Provision for young people with special educational needs and disabilities must be improved, a council has said.
Stockton councillors are considering plans to ensure more pupils can attend a school near where they live.
One council survey suggested 76% of pupils needing specialist provision travelled to a primary school that was not near their home.
Cabinet member Ann McCoy said protecting these services was a "top priority for this council".
The authority has been consulting on plans which include changes to nursery provision.
'Extremely high' costs
Parents had strongly opposed proposals to shut the early support nursery at High Flyers Children's Centre in Thornaby as part of the plans.
After "constructive discussions", the council has now confirmed it will be retained.
A report to the council said there was a "lack of specialist support for children in mainstream schools".
The configuration of places also meant many children had to travel to them, with "extremely high" transport costs.
The number of children in special schools rather than mainstream schools in Stockton is 10% above the national average, the report said.
Councillors will discuss the plans on Thursday and a report is expected to be discussed by the cabinet in March.