Middlesbrough station refurbishment 'to begin in spring'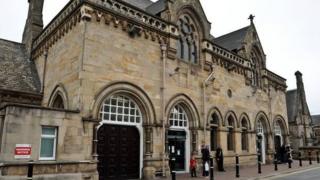 The "long-awaited" refurbishment to Middlesbrough station is set to start in spring, rail bosses have announced.
Network Rail said that after a lot of behind-the-scenes work, a specialist contractor had been appointed to work on the Grade II-listed building.
The £2.7m project to repair the roof and stonework will last a year, with train services continuing to operate.
A masterplan to regenerate the area around the station is also being drawn up by Middlesbrough Council.
Middlesbrough mayor Dave Budd said: "Middlesbrough railway station is at the heart of the town's historic quarter and is central to our aspirations for the town centre and the wider area.
"I'm delighted that these important upgrades and refurbishments are due to start."
Lisa McGuinness from Network Rail said: "Lots of work has happened behind the scenes to get the specialist contractor in place to work on this Grade II listed building.
"We will continue to work with TransPennine Express and Middlesbrough Council to minimise the disruption caused by our improvement work."