Disabled teen suffered 'days of excruciating pain' before death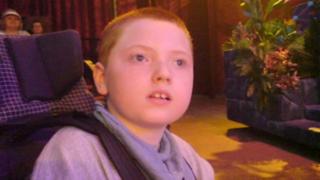 The family of a disabled boy who died after "days of excruciating pain" say they are "pleased" a hospital trust is changing its procedures.
Callum Robinson died in hospital one week after sustaining injuries in a fall at his home in August 2014. He was being looked after by a care worker.
A hip fracture, which led to the 14-year-old from Marton's death, was not detected in an X-ray at James Cook University Hospital, an inquest heard.
A narrative verdict was recorded.
Callum sustained two leg injuries in the fall from his bed, including a fracture which required an operation, the inquest heard.
'Open and honest'
The hip fracture was not detected by radiographers because his incontinence pad was not removed - resulting in a sub-optimal X-ray image.
Callum's body was unable to cope with the stress of surgery, the inquest heard.
South Tees Hospitals NHS Foundation Trust said it had been "open and honest" and apologised for not identifying the fracture initially.
The hospital has now strengthened its X-ray procedures following Callum's death.
His father, Paul Robinson, said: "We are pleased that changes are being put in place as a result of Callum, especially two new procedures that makes it really clear what they should and should not do."
Voyage Specialist Healthcare said the incident was thoroughly investigated and no further action was taken. It added carer Amy Carter's training was "up to date" and included "specialist training to meet Callum's needs".
Coroner Karen Welsh said his parents knew they would lose Callum at some point, "but not in such a tragic series of events".