Cleveland Police should be abolished if it fails to improve, an MP says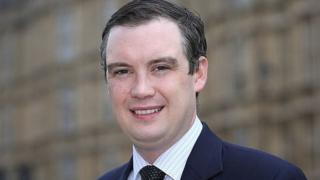 Cleveland Police should be disbanded if senior officers cannot bring in improvements, an MP has warned.
The force has come under fire for using spying powers to hunt out leaks of potentially damaging information to journalists.
It admitted unlawfully accessing private phone records at a tribunal last week.
Stockton South Tory MP James Wharton said if "serious problems" were not tackled the force should be abolished.
A hearing of the Investigatory Powers Tribunal was told last week how the force used the legislation in an attempt to uncover the source of stories in the Darlington-based Northern Echo newspaper.
Mr Wharton, who was formerly the Northern Powerhouse minister, said the latest headlines about the force followed a string of damaging stories dating back well over a decade, including former chief constable Sean Price being fired for gross misconduct.
Mr Wharton, who called the force's use of anti-terror laws an "extraordinary use of powers", said the police and crime commissioner should press ahead with a full inquiry.
He said: "The outcome, I would expect, is individuals losing their job either because they have done something demonstrably wrong or because obviously they are not the right people to get to grips with the very serious problems.
"Failing that, it may be the only option to resolve these issues properly is to abolish Cleveland Police."
The MP stressed he was not blaming rank-and-file officers who he said had been let down by seniors.
Cleveland Police said: "We have fully co-operated with the Investigatory Powers Tribunal process and await the determination of the panel in the coming weeks."