'Sympathies' over death of jobseeker David Brown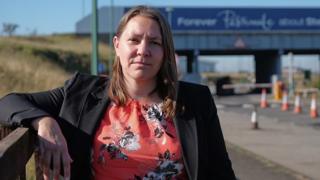 The government has offered "unreserved sympathies" to the family of a man who killed himself after saying he felt "belittled" by job centre staff.
Leader of the Commons David Liddington was referring to the suicide of 18-year-old David Brown, from Eston.
It was in response to a question by Redcar MP Anna Turley on the impact of welfare reforms on vulnerable people.
Mr Liddington offered condolences but said jobseekers must be held to the same standards as people in work.
Raising a question at Prime Minister's Question Time, Labour MP Ms Turley said: "I know the whole House will join me in sending their heartfelt sympathies and condolences to the family of David Brown, who aged just 18 took his own life.
"The inquest into his death heard that he did so on the day he was due to sign on at the job centre after saying he felt belittled by staff, despite actively looking for work and seeking an apprenticeship.
"Shortly before taking his own life he told his mum 'the way the job centre treats people it's no surprise that people commit suicide'.
"Will the leader of the house undertake a review into this individual case but will he also undertake to take stock of six years of brutal welfare reform and look at the way the DWP treats its most vulnerable constituents?"
'Shocking experience'
Mr Liddington, who was standing in for Prime Minister Theresa May, said: "First, can I first also express unreserved sympathy for the family of David Brown.
"No parent, no family should have to go through that kind of shocking experience.
"Clearly human beings in any organisation sometimes take decisions that get things wrong, and I will ask the Department for Work and Pensions to have a look at the particular case she has described.
"But I do have to say to her that while the principle remains right that while staff should always behave with courtesy to people seeking to claim benefits, it is also right that we should expect people who are receiving benefits to be subject to the kind of disciplines that apply to people who are in work, even if they are in low pay.
"There is a principle of fairness here which lies behind the approach the DWP takes."
Mr Brown was found dead at his home on 3 October and an inquest recorded a verdict of suicide.
The DWP said he had neither received nor was threatened with a sanction, and it had not been invited to give evidence at the inquest.
A spokesman said: "Our thoughts are with Mr Brown's family at this difficult time.
"Suicide is a very complex issue and there is no evidence of a link between Mr Brown's suicide and his interaction with Jobcentre Plus."