New River Tees bridge: Government funds feasibility study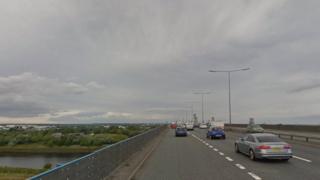 The government has said it will pay for a feasibility study into a new major road bridge over the River Tees.
The Department for Transport will provide £450,000 to explore whether a new crossing would reduce congestion on the A19 flyover on Teesside.
The need for another Tees crossing, either over or under the river, has been discussed for more than a decade.
Shadow Transport minister and Middlesbrough MP Andy MacDonald said the situation was "desperate".
'Qualified welcome'
He said: "When it [the A19 flyer] grinds to a halt the consequences for the entire territory can be gridlock so it's urgent."
He offered a "qualified welcome" to funding saying he "couldn't be better pleased" if the bridge became a reality.
But the government had a "pretty poor record in turning announcements into real projects", he said.
The feasibility study will look at potential locations and it is hoped the new route would aid access to Middlesbrough's enterprise zones.
David Brown, chief executive of the Transport for the North partnership of local authorities, said it had the potential to "further enhance access to Teesport, one of the North's busiest ports".