Newcastle residents protest over houses on 'last' green space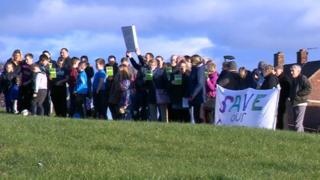 A protest has been staged over plans to build houses on a housing estate's last remaining green space.
Residents on Montagu Estate in Kenton, Newcastle have launched a "Save our Green" campaign against plans for 10 homes on the field by Burnfoot Way.
Campaigner Mark Skelton said it was "the hub" of the entire estate, where people meet "on a daily basis" and where their children come to play.
Developer ISOS Housing has been approached for comment.
Resident Stephanie Sutton said: "Obesity is an issue, health is an issue, mental health is an issue.
"If our kids have nowhere to come out, and mix with other people, it's very sad for them."
Newcastle City Council said it had a responsibility to meet the housing needs of all its residents.
People were welcome to comment on the plans as part of the public consultation running until 7 December, it said.