Shipbuilding museum plan revealed for Hartlepool's Jacksons Landing mall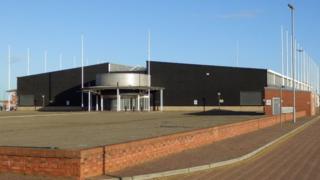 Plans to build a shipbuilding museum on the site of a derelict shopping centre have been unveiled.
The Jacksons Landing site has been disused since 2004 and was purchased by Hartlepool Borough Council in 2013.
The council is spending £40,000 flattening the waterfront site and is also in talks with a hotel chain.
Councillor Kevin Cranney, head of regeneration for the council, said it was considering a multi-million regeneration of the area.
Mr Cranney said: "We need to reflect on Hartlepool's heritage and as we know this is all based around the sea.
"This was a big shipbuilding town."
The council said it was currently levelling the site to reduce maintenance costs.