Ex-clergyman jailed for Newton Aycliffe sex abuse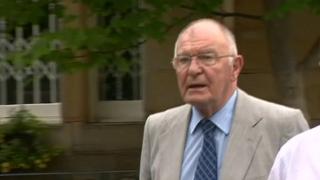 A retired clergyman convicted of what was described in court as "sinister and deliberate" sexual abuse in the 1970s and 80s has been jailed.
Granville Gibson, 80, abused two men aged 18 and 26 while he was vicar at St Claire's Church in Newton Aycliffe.
He was found guilty of two counts of indecent assault at Durham Crown Court in August.
Judge Christopher Price said Gibson had shown no remorse for the offences and sentenced him to 12 months in jail.
The court heard Gibson, who was later made an archdeacon, was guilty of "sinister and deliberate" sex abuse and a gross breach of trust.
A jury took six hours to find him guilty of indecently assaulting two men who had been working on church property.
Gibson, from Darlington, was found not guilty of one serious sexual offence and four indecent assault charges.
Judge Price added Gibson had "abused his trust of authority".
Peter Ridley, who was 18 years old when he was assaulted, was sent to the church to serve a community sentence order.
He waived his right to anonymity and told the BBC: "I've had 39 years of trying to tell everyone 'I was not lying'.
"I can be myself again and get on with my life now because I don't have to take that to the grave with me anymore."
The Church of England issued an "unreserved apology" to the victims and a review and by the Diocesan Safeguarding Management Group is under way.