Cleveland Police knife amnesty yields scissors and a gun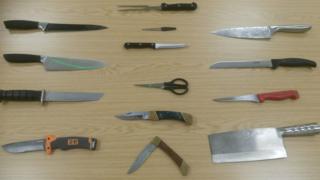 Scissors, swords and a meat cleaver were among the items given up to Cleveland Police during a knife amnesty.
The week-long campaign encouraged people to hand in sharp objects at police stations around the region.
It yielded 106 items, which also included machetes, flick knives, butterfly knives, a carving fork and a BB gun.
The force said it was extremely pleased with the result.
Ch Insp Emily Harrison said: "It means that there are far fewer potentially dangerous objects on the streets of Cleveland now that these items have been handed in."