Two arrests over dog buried alive with nail in head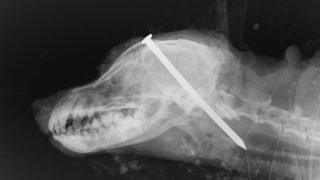 Two men have been arrested after a dog was found buried alive with a nail through its head.
The animal was discovered buried in a mound of earth in Kirkleatham Woods, Redcar on Wednesday.
It was still alive, and was rushed to a vet, but its injuries were so severe it had to be put down.
Cleveland Police said the men, aged 60 and 59, from the Redcar area were held on suspicion of animal cruelty and will be interviewed by an RSPCA officer.