Thorpe Thewles villagers fight power plant plans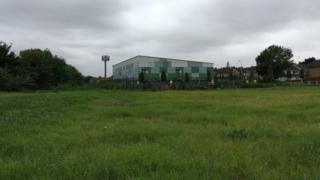 Plans for an £18m power station near a village are being opposed because of traffic and environmental fears.
Statera Energy Ltd wants to build the battery storage plant at Thorpe Thewles near Stockton.
Residents at a public meeting on Friday said there were more suitable sites than High Middlefield Farm, which would not cope with the extra traffic.
The company said the plant would create no air emissions, little noise and, once built, little traffic.
Pub owner John Cavanagh said the feeling in the village was "very negative" and that "there must be better sites across the area that they could use".
"The traffic would be an issue, especially on that road - it's a very small road, there's families that do use it to walk their dogs, their children - it would cause issues," he said.
John Davies, who owns a bed and breakfast business in the village, said he was worried developers might revert to original plans for a gas-powered plant.
"The worry is, if it was a gas plant at a later date, and then the effects on the people who live by here - we're only 230m away from where this would be - would be really, really bad," he said.
Developers have accepted there will be disruption while the station is built - up to 50 lorries a day for up to a year - but say it will be remotely operated once up and running.
Statera said the station would provide the National Grid with back-up power at very short notice during peak demand and would not operate continuously.
Stockton Borough Council is considering the planning application.