Middlesbrough women statue: MP Ellen Wilkinson wins vote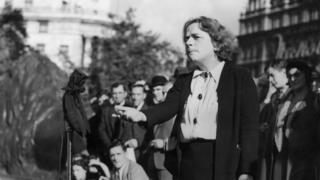 The first statue of a woman to be built in Middlesbrough should depict former MP Ellen Wilkinson, an online poll has decided.
She served in Middlesbrough East from 1924 to 1931 and later became the first female education minister.
Almost 600 people, some from Poland, Australia and the USA, voted.
Campaigner Emma Chesworth said she was "delighted so many people took the time to read about the shortlisted women and place their vote".
"There are many remarkable women who lived and do live in Middlesbrough and this campaign aims to highlight their tremendous achievements," she said.
'Erased from history'
All seven statues in Middlesbrough town depict men, including D-Day VC soldier Stan Hollis and footballers Brian Clough, George Hardwick and Wilf Mannion.
The campaign to honour the achievements of the town's women began in March.
"All too often, women are erased from history and their achievements never known or given the recognition they deserve," Ms Chesworth said.
The shortlist included artist Viva Talbot, nurse Mary Jaques, explorer Gertrude Bell and suffragists Alice Schofield Coates and Marion Coates Hansen.
It is hoped the statue will be paid for through fundraising and lottery grants.
Ellen Wilkinson lost her seat in Middlesbrough in 1931 but, after a period working as a journalist, was elected as Jarrow's MP in 1935, becoming heavily involved in the 1936 Jarrow March.
In 1945 she became the first female education minister, introducing free milk and school meals.