Fraudster William Davenport's mother 'terribly cheated'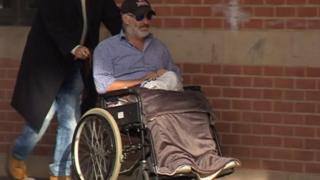 A man jailed for making fraudulent loan applications to buy a stately home "owed everybody money", according to one of his first victims - his mother.
William Davenport admitted using forged documents to raise money to buy Windlestone Hall, near Bishop Auckland.
But many years earlier his mother Josephine Green estimates he swindled her out of about £300,000 to buy different properties.
Mrs Green, also known as Terry, said she felt "terribly cheated".
When 60-year-old Davenport was jailed for six years at Teesside Crown Court on 28 September, the judge described him as "thoroughly greedy".
Windlestone Hall is the birthplace of former prime minister Sir Anthony Eden.
The court was told Davenport, who was previously known as William Green, had been made bankrupt three times and had incurred a number of county court judgements.
BBC Inside Out has looked back at his past schemes - including defrauding his mother to buy properties such as a French chateau.
When one of the houses on the Isle of Wight was repossessed he disappeared, leaving her homeless.
His sister Gisele Dobson said: "I can't believe anyone would do that. I can't believe anyone can be so cruel."
Asked about how she felt about her son, Mrs Green said: "I don't trust anyone. It is very embarrassing too because everyone knew that I love Bill.
"And then what was worse was what was coming out with it. He owed everybody money."
She said she felt "terribly cheated", before adding: "But the big question I have always asked is why?"
Inside Out also discovered that Davenport:
was involved in buying the lease on Egerton stud in Newmarket - but was declared bankrupt after six months because of unpaid bills
using a new name - William Carrington - bought properties in Scotland and the United States, but was later evicted from both because of unpaid debts
moved to County Durham where in 2011 his £241,000 offer for Windlestone Hall was accepted by Durham County Council
In 2014, Windlestone Hall went back on the market for £2.5m.
Speaking about the effect on her mother, Mrs Dobson said: "I'd say he degraded her and... abuse really, financial abuse certainly."
Both agreed that they did not think the six-year sentence was long enough.
Watch the full story on Inside Out, North East and Cumbria on BBC One at 19:30 on Monday 10 October.