Ebac returns washing machine manufacture to UK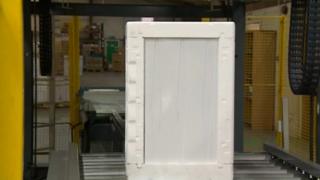 The first domestic washing machine to be manufactured in the UK in a decade has rolled off a factory production line.
Ebac, based in County Durham, which also makes dehumidifiers and water coolers, hopes to eventually produce 200,000 machines a year.
Initially, they will only be sold via independent stores in the North East.
The family-run company in Newton Aycliffe said it had already been "surprisingly overwhelmed" by demand.
Chairman John Elliott put it down to the "desire for a British-made product".
He said: "This will be competitive with everything out there, have the right price and the right features.
"We've got to be competitive, people won't pay more - and they shouldn't pay more - for a British-made product.
"We'll be winding production up slowly and in 18 months' time this could be going flat out and employing 100 more people."
Since the demise of Hotpoint, the three million washing machines purchased annually in the UK come from overseas.