Miner and author Sid Chaplin blue plaque unveiled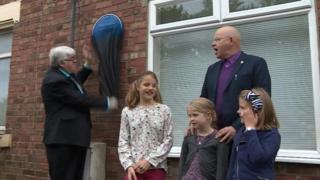 A plaque dedicated to miner-turned-author Sid Chaplin has been unveiled on his former home.
Mr Chaplin was renowned for his writings about the north, in particular for the BBC series When The Boat Comes In and the musical Close The Coalhouse Door.
The plaque has been placed on a house on Gladstone Terrace in Ferryhill where he lived in the 1940s and 50s.
It has been installed to mark the 100th anniversary of his birth.
Mr Chaplin's son Michael, who has edited a new collection of his father's work, said: " Throughout his career he brilliantly captured what it meant to be a miner and live in the communities that shaped the culture of the entire north east.
"It fills me with pride to know that, with the plaque and a new book bringing together his greatest works, the history of both my father and the region he loved so much will live on."
---
Who was Sid Chaplin?
Sid Chaplin was born in Shildon, County Durham, in 1916 when the great northern coalfields were at their height, and died in 1986 when they were on their last legs.
He followed his father in becoming a miner before turning to writing.
Through a career lasting 45 years, he wrote seven critically acclaimed novels, four books of short stories and two books of essays.
His stories inspired the iconic stage musical Close The Coalhouse Door and, as well as being a journalist, broadcaster and co-founder of Northern Arts, he also wrote for television, including the BBC series When The Boat Comes In.
He was married to Rene Chaplin, who contributed to his work, and had three children - Gillian, Chris and Michael.
---