Vandal-hit Hartlepool park suffers £2,000 damage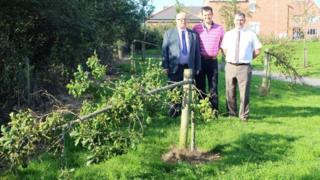 Vandals have caused more than £2,000 of damage to a Hartlepool play area in the latest of a series of problems to hit the park.
Ten trees were destroyed and the roofing of a bandstand was damaged in the play area at Bishop Cuthbert at about 21:30 BST on Monday.
Hartlepool Borough Council said a gang of between 40 and 50 youths was seen in the area at about that time.
Councillor Paul Beck said the play park had been targeted multiple times.
He said: "This is just the latest in a series of incidents at the play park but it is certainly the most serious.
"We are receiving lots of complaints from many of the young families living in the area that their enjoyment of what is an excellent community facility is being spoiled by vandals.
"Such wanton damage can't be allowed to go on and action must be taken to ensure it is stopped."
Cleveland Police said an investigation was under way.