Dying mum's letter found in book in second-hand bookshop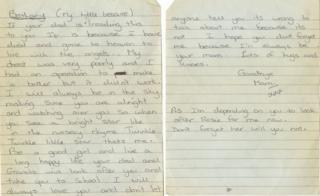 A letter from a dying woman to her daughter has been discovered in a pile of second-hand books.
Gordon Draper, owner of Bondgate Books in Bishop Auckland, hopes to return the note and an accompanying photograph to its rightful owner.
The letter is addressed to "Bethany" and the writer, whose "chest was very poorly", says "don't forget me because I'll always be your mum".
Mr Draper said: "I just thought I have to do something with it."
He added: "Hopefully we will find this Bethany to hand her it back. My only wish at the moment is to get it back to its rightful owner."
The letter fell out of a pile of books which had been given to the shop.
It reads: "If your dad is reading this to you it is because I have died and gone to heaven to live with the angels."
The writer said she had an operation to fix her "poorly chest" but the procedure did not work.
She said: "I will always be in the sky making sure you are alright and watching over you so when you see a bright star, like in the nursery rhyme Twinkle twinkle Little Star, that's me.
"I hope you don't forget me because I'll always be your mam."