Man found dead in undergrowth on Darlington roundabout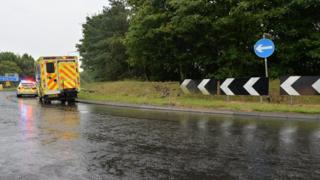 A man thought to be in his 20s has been found dead in his car after crashing into dense undergrowth on a roundabout near Darlington.
Police said they believe they know the identity of the man and but it was unclear when the crash happened.
The silver Renault Megane ploughed through chevrons at junction 58 of the A1(M) on the outskirts of Darlington.
It hit several trees before coming to rest in dense undergrowth, on the roundabout itself.
A formal identification of the body is not expected to be carried out until at least Monday.
Sgt Andy Sutherland, of Durham Police, said: "The car appears to have left the road at some speed and crashed into a number of trees before finally coming to rest several metres back from the carriageway.
"Its location means it would have been extremely well-hidden from passing traffic."