Skinningrove flood defences repaired after storm damage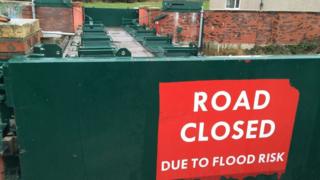 Work has started to repair flood defences on Teesside that were damaged during severe winter storms.
Skinningrove near Saltburn has seen some of the worst flooding in the north-east of England in recent years.
But as a result of several violent storms over the winter period, some defences protecting homes near Kilton Beck were damaged.
The Environment Agency is carrying out work to replace debris screens which is expected to last three weeks.
In 2014 the government pledged £13m to boost flood defences in Skinningrove.
A year later a project was completed which means bridge parapets at Zetland Row now lower automatically at the push of a button, rather than having to be lowered manually.
Alan Cadas, Environment Agency operations manager for the North East, said: "The storms this past winter had a terrible impact on people's lives, homes and businesses and we're in the process of carrying out repair works across the North East.
"Work to get our assets back to the condition they were in prior to the storms is a challenge, but we're working tirelessly to restore protection to communities."