Ferryhill children's nursery burglars steal safe with 60p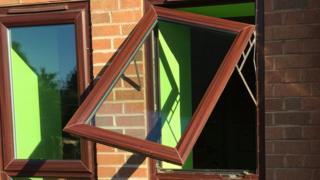 Burglars forced entry to a children's nursery to steal a safe which contained just 60p.
Owner Laura Leigh Wayman said she felt sick when she discovered the break-in at Child's Play Private Nursery in Ferryhill.
The raiders forced through a gate and took out a window to get to the safe on Saturday.
Ms Wayman said the damage was extensive, but she found it "funny" they only got away with a few pence.
The 27-year-old, who set up the business in 2012, added: "They came looking for money which wasn't here.
"It is quite funny they only got 60p, which means they would only have been able to go to the shops and get a few penny mix-ups.
"It's a nursery - its got kids' toys. There's nothing of value to anybody unless you are a child."
Durham Police is investigating.