Teesport green power plant construction to begin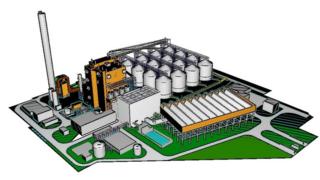 Work on a £650m green power plant on Teesside is due to begin - more than seven years after it was proposed.
Up to 600 people will be employed building the Tees Renewable Energy Plant at Teesport in Middlesbrough.
A further 100 permanent posts will be created when the biomass facility is completed in 2020.
The project was approved by the then Labour government in July 2009, but a complex finance deal involving several countries has only just been sealed.
Site preparation works are set to begin within the next few weeks, with main construction works starting before the end of the year, developer MGT Teesside said.
'Huge success'
The plant will be fuelled by about 2.5 million tonnes of wood chips a year and will generate enough electricity for about 600,000 homes across the North East.
MGT chief executive Ben Elsworth said: "The project has had to overcome many hurdles, but we have now successfully reached the next stage despite the difficult financing environment.
"We can't wait to get work started on site and make this project a huge success for Teesside".
David Robinson, CEO of PD Ports, said: "This is excellent news for Teesside and gives substantial impetus to the long-term economic activity in the area as well as positioning the region as a major energy hub, creating hundreds of jobs and many more in the wider supply chain."
A spokesman for Redcar and Cleveland Council said: "This is a massive investment and we welcome this news, which will bring high quality jobs to people in our borough."