Redcar cannabis festival sparks music licence inquiry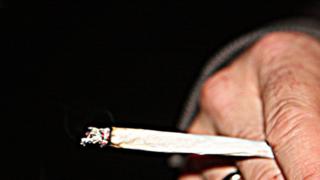 Organisers of a cannabis festival have been questioned by police - for not having the correct music licence.
The weekend event at Redcar Rugby Club attracted about 700 visitors who enjoyed food, music and "a happy vibe".
Teesside Cannabis Club said alcohol was banned, and it did not encourage the smoking of the class B drug.
Cleveland Police said there were no reports to police of cannabis being consumed but it was investigating potential licensing offences.
John Holliday, club founder and festival organiser, said the club was told three days before the festival that the correct music licence might not be in place, and believed the issue to be the position of the stage.
'Chilling out'
However, it was decided not the cancel the event, which as well as "being fun" also had an educational element.
"There were no arrests and no anti-social behaviour," he said.
"We don't encourage anyone to break the law or take drugs and there was no blatant use of it.
"It was just people chilling out and we encourage a nice, positive atmosphere and a happy vibe."
A Cleveland Police spokeswoman said: "Officers from the Licensing Support Unit attended the event with regard to potential licensing offences which are still under investigation.
"This event took place without any reports to police of cannabis being consumed from members of the public or the organisers of the event.
"Had any allegations of offences been made then officers would have dealt with those offences appropriately."