Hartlepool funeral director Gerald Martin abused boys, jury finds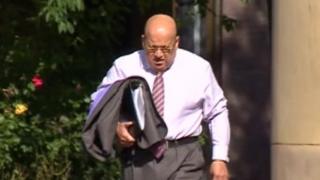 A funeral director has been found guilty of sexually abusing five boys over a 22-year period.
One victim said he was grabbed from a public toilet, bundled into a car and sexually abused at Gerald Martin's funeral parlour in Hartlepool.
Teesside Crown Court heard the abuse began in the 1970s.
Martin, 66 and of Valley Close, Hartlepool, had denied all the charges against him. He will be sentenced at a later date.
The jury was told he had been seen as an upstanding member of the community and for a time had been captain of the local boys' brigade.
However, the abuse came to light in 2013 when a man told a nurse he had been the victim of an assault.
Four other people then came forward to say they had also been abused as teenagers after details of Martin's first court appearance were reported.
Some told police they had been sexually abused in public toilets.
Giving evidence during the trial, Martin admitted to having homosexual experiences, but said he had not told his wife of 35 years because he loved her and they were "absolutely happy".
He denied having sexual encounters with children and said he had "definitely not" had sex with any of his accusers.